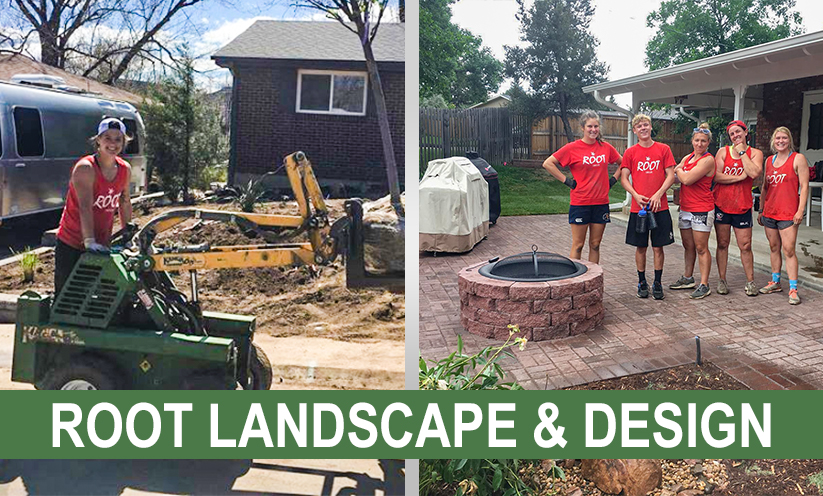 Landscape Design: Amy owned & operated Kanga Loaders for 19 years
Amy Root from Colorado got involved in the residential landscape design industry 22 years ago when a good friend needed a new yard and she needed a job. As a result she decided to start her own business Root Landscape and Design and has owned many Kanga's over the years, providing a helping hand to the landscape design company. We took the opportunity to ask her a few questions.
Why did you buy your first Kanga initially?
"I bought my first Kanga in 2001 initially because I was the only crew member starting out and I needed help. Thus, I wanted something affordable and compact. A loader that would fit through gates, could lift heavy materials, perform several task using attachments and be easy to transport to and from job sites. The Kanga machine met all those requirements, especially for landscape design."
What kind of work in landscape design have you carried out with your Kangas?
"You name it, we have probably used our Kanga to do it. Due to the fact that we have owned and operated now 4 Kangas and several attachments over the past 19 years, we have found many professional landscape design (and some not professional uses) for these machines. However, we predominantly use them to build landscapes for our customers. For instance, these are some of the jobs we use the Kanga for:
Trenching sprinkler, gas and electrical lines, French drains
Moving, unloading, loading and or relocating all sorts of materials: Mulch, rocks, pavers, wall block, bags of concrete, soil, timbers, boulders, debris
Rototilling, Grading and levelling
Planting trees, shrubs and perennials
Pulling fence post, tree t-post, dead trees, shrubs
Removing concrete patios and walks
Auguring footings for decks, fence post and small walls
Digging egress windows (backhoe attachment)
Relocate sheds, play sets or other heavy structures
Boring under driveways and walks
Snow removal
Retaining wall base prep
Moving trailers around the yard
Lift smaller, but heavier items into trailers like compactors, sod cutters, generators, toolboxes etc."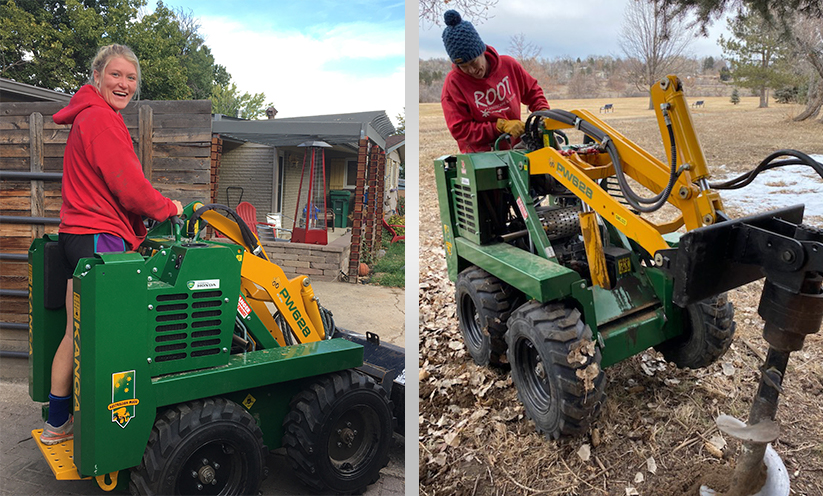 What attachments do you own and operate for your landscape design business?
"Altogether we have trenchers, a rototiller, backhoe, underground borer and kit, a 4in1 bucket, the carryall leveller, a hydraulic angle blade, forks, standard bucket with teeth and without and auger power heads with 8″, 12″ and 30″ Augers.
I have to say, my favorite attachment is probably the trencher with rock teeth. With the way the lift and tilt controls work on the arm of the Kanga compact loader, the trencher can be used for so much more than just trenching. In fact, we have used it to dig holes for trees, shrubs and even valve boxes. Additionally, it works great to scratch the surface a few inches for edging in really hard ground and if you need to move a small tree or shrub, the trencher cuts through the roots nicely to create a perfect root ball for transplant."
What do you like most about your Kanga?
"For such a small, compact machine, I love how much power, versatility and dependability a Kanga compact loader offers. We have been using the same 2 machines and attachments for over 15 years with little or no down during all those years. And if there is a problem, these machines are so easy to work on and find parts for. With that being said, we just purchased a new PW628 for landscape design last fall and can't wait to put a 4th Kanga Loader to work this spring!"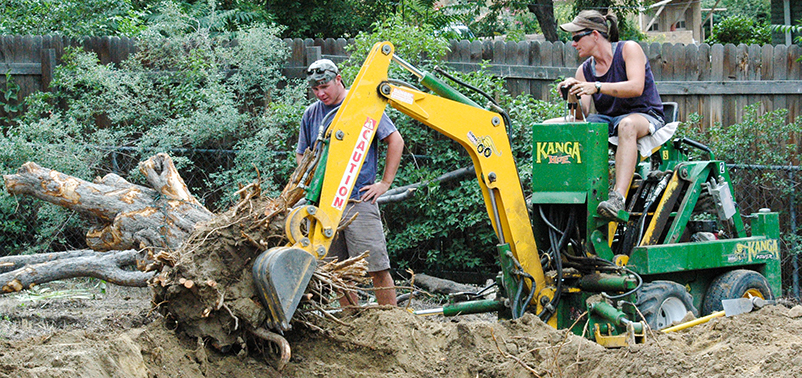 Would you recommend a Kanga Loader to other business owners?
"Yes, I'd recommend a Kanga Loaders to other business owners for several reasons. For starters, you won't find a better team to work with then the people at Kanga. They are an extraordinary company to do business with. Secondly, the machines they make are designed and built like no other mini loader out there. Overall ease of use, power, versatility, affordability and quality are just a few words that come to mind to describe a Kanga compact loader.
Our Kanga compact utility loaders and attachments are the most instrumental piece of equipment we own. They perform so many tasks, save us money and allow our crews to be more efficient and less fatigued, each and every day. As an end user of 19 years now, I can't imagine installing any of our landscape projects today without a Kanga mini loader onsite." – Amy Root from Root Landscape & Design.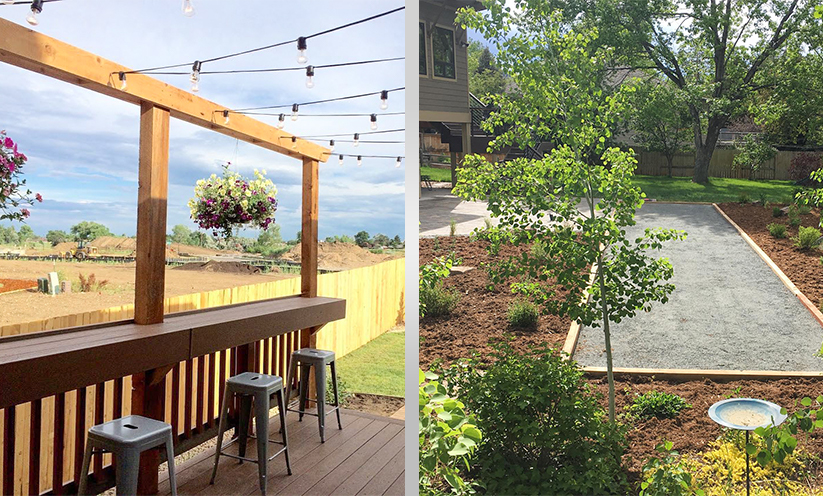 "We are thrilled Kanga is now available in the US and can't wait for more folks here to find out just how awesome owning a Kanga machine is."
Are you interested in buying and would like to have a chat to someone who has owned a few Kangas? Feel free to contact Amy in Wheat Ridge (CO) at rootlandscape@gmail.com or 720-383-7668.
Do you own and operate a Kanga for your business as well? Tell us your story! Send an e-mail to marketing@kangaloader.com, contact Martin O'Grady at +1 563 213 6426 or click here.