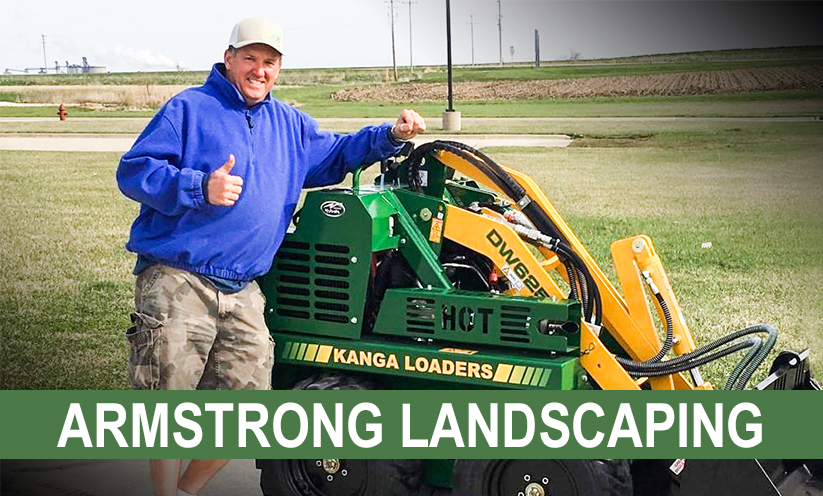 The Perfect Mini Loader for a Landscaper
Kanga Loaders has helped Shawn Armstrong, a Landscaper from Oklahoma, to become the business owner he is today. Armstrong Landscaping has used the Kanga compact utility loader for landscaping projects over the past 22 years. Let's see what he had to tell us about his Kanga Journey.
"I was introduced to landscaping while in high school at Pryor, OK by a local business who needed help installing a flower bed. I enjoyed the work, so I studied Landscape Architecture at Oklahoma State University and earned a Bachelor of Science degree in 1995. The following year I started my own landscape contracting company, Armstrong Landscaping. It didn't take long to figure out I needed something to help with the labor intensive landscape work."
The introduction to Kanga Loaders
"First saw a Kanga loader at the Tulsa Home and Garden Show in 1998 and not long after I purchased one with a standard bucket, trencher, and angle blade. I often referred to that machine as my "new employee" because it was so helpful! I used that machine for 8 years. Then purchased my next Kanga machine in 2006, this time with the trencher, an auger, and a 4' tiller. I had already purchased a boring unit attachment with 30' of boring rods as well. In addition, I also bought a McCullough Cover Up attachment that works great for covering up irrigation trenches. I just recently upgraded to the new 6 Series Kanga Diesel Loader with a 4 way bucket.
"I have tested other brands of machines and none of them compare to the Kanga Loader."
Mini Loader for all landscaping applications
"Armstrong Landscaping has used the Kanga for all of our landscaping and irrigation projects for the last 22 years. It helps us finish our projects quickly and safely – it helps us move materials around jobsites and saves us a lot of back pain! We have used our Kanga to move topsoil, screening, sand, plant material, retaining wall blocks, brick pavers, and sod. Customers are very impressed when they see us grading their yards quickly with our Kanga Loader.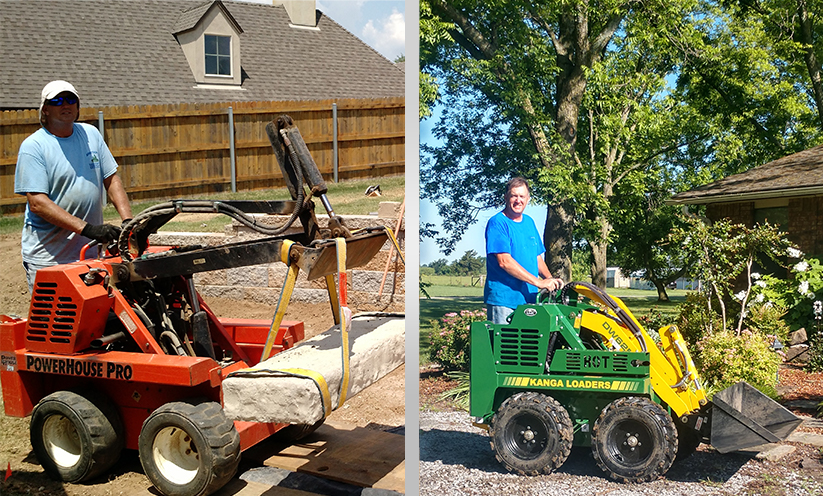 Some of the particulars of the Kanga Loader that I love are the hydraulic controls being in the center of the loader. It allows the operator to hold and operate controls using only the fingers, as well as all of the available attachments. I love all of my attachments but the boring attachment is a favorite. We can bore under sidewalks, driveways, and even an entire road – it has come in very handy!
I highly recommend a Kanga because they are a super productive, compact machine that is light and easy to haul to jobsites. They are definitely a profit-maker."
Check out our range of Kanga compact mini loaders and contact us today.
Do you own and operate a Kanga for your business as well? Tell us your story! Send an e-mail to marketing@kangaloader.com, contact Martin O'Grady at +1 563 213 6426 or click here.