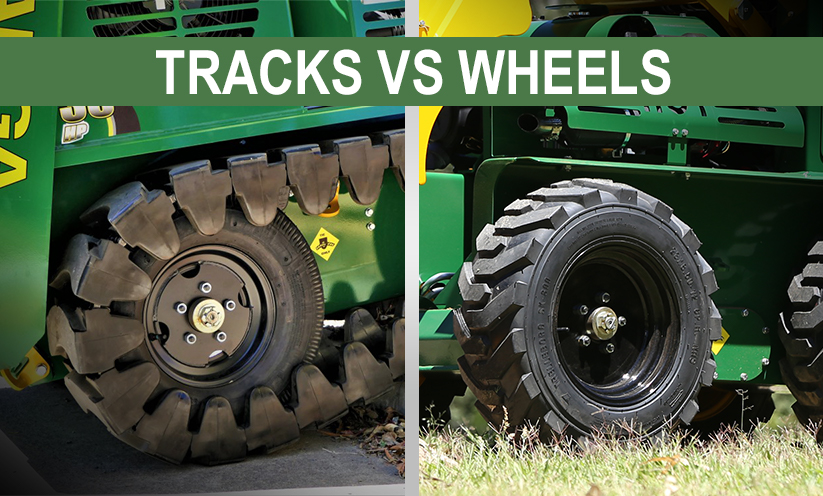 What is best – Compact Loader with Tracks or wheels?
The age-old argument – Compact Loader with Tracks or wheels?
We often get asked which is best, but the answer lies with how you intend to use the compact loader or mini skid steer loader… Whether you're working in construction or agriculture, knowing whether you need loader tracks or wheels comes down to how you intend to use the machine.
Tracks are beneficial on wet and less likely to tear up a freshly laid lawn but if you're working on concrete regularly, then steer clear and opt for a set of wheels. You'll get greater ground speed and life, as the hard surfaces can cause premature wear on tracks. So, before you set out to find your new mini loader, consider:
How often you will use the machine.
What sort of ground conditions you are likely to be working in.
Kanga offer a compact loader with tracks or wheels for all models. However the decision on which way to go can be as tough as the ground you're working in.
Check out the preferences of some of our experienced customers when we asked what they thought: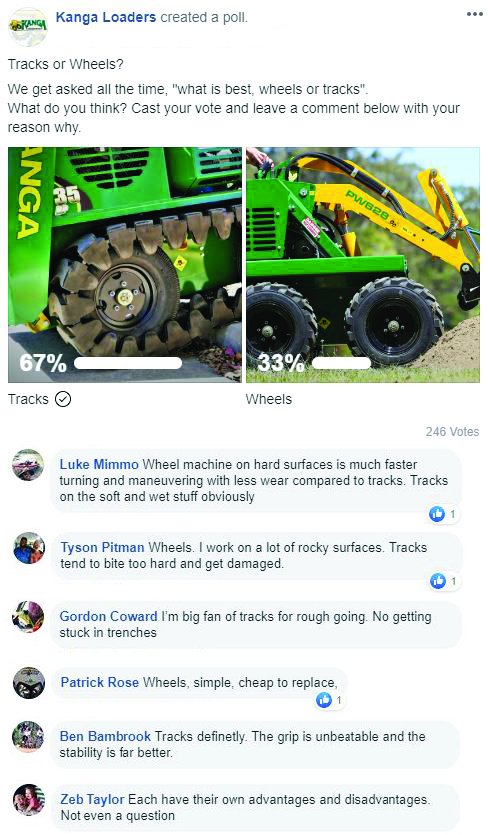 Below we cover how Kanga's tracked and wheeled models may benefit you:
Kanga wheeled compact utility loader
A wheeled loader gives you broader options for working in different ground conditions.
Kanga's heavy-duty wheel construction provides traction and lasting wear across a range of ground surfaces, from concrete or asphalt, to gravel and dirt.
The huge 23" lug skid steer tyres provide 185mm/7.2″ ground clearance to help you tackle undulated ground.
Our wheels come in different tyre options, depending on your conditions. Water-filled for more weight, stability and traction, air-filled for lighter grounds; such as turf or lawn, and foam filled, which is puncture proof.
Lower operating costs comes down to fewer moving parts and in turn less maintenance and servicing over tracks.
Kanga wheels are also available with Kanga's resealing puncture proof solution to make your wheels even more wear-proof in yards, on streets, or the factory.
Kanga tracked compact utility loader
Kanga's tracked wheel system uses a unique configuration and is different from many other tracked systems on the market.
Kanga's unique tracked system has no undercarriage requirement, so you get a higher ground clearance than the average tracked compact skid steer loader. A flexible track means no see-sawing effect over uneven land.
Due to increased ground coverage, Kanga's tracks create a consistently more stable ride and the ability to tackle undulated grounds. This is ideal for when you need to get the job done quickly under any weather condition.
The flexi-track gives you greater traction than wheels on loose surfaces, such as sand or very wet conditions.
For more information on our range of compact loaders click here, or get in touch with us on Facebook.