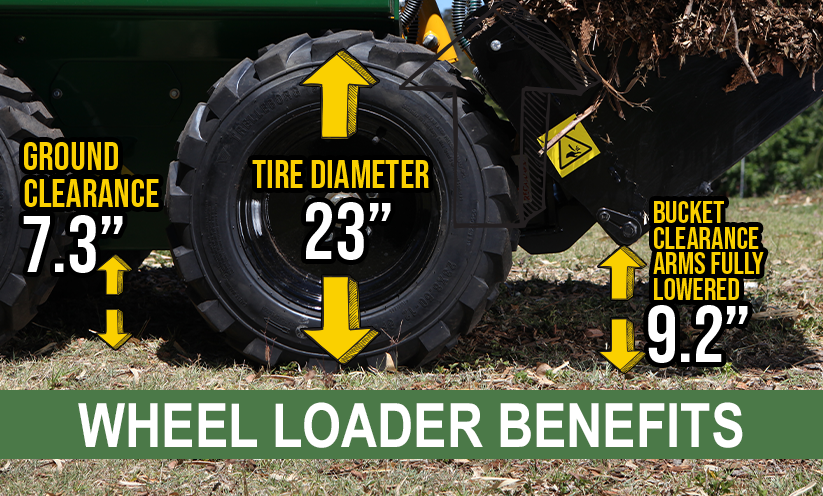 Benefits of Wheel Loaders
Are you considering purchasing a mini wheel loader but are not quite sure what benefits it carries? While tracked mini skid steer loaders are a popular choice across America, wheel loaders carry a variety of other advantages. They are more suitable to industries such as landscaping, arborist services (tree services) and fencing.
There are a few important points to consider when it comes to opting for a wheeled mini loader with tires. Not all are the same.
Kanga's basic model line-up is complimented by the best wheel/tire ground clearance combination possible. These are the main features, which distinguish Kanga from other loaders on the market:
Ground clearance
23" Wheel Diameter
No compromise on torque, powered by 32cbi hi-torque wheel motors
Approach and departure angles – Industry Leading
Best in class – Load carrying stability across undulating ground.
Let's take a closer look at what this means for the mini loader operator.
Bucket Clearance for Safety and Stability with Wheels
The compact loader bucket clearance is such an important product feature that is often overlooked. The Kanga has the ability to carry a full load with the arms resting on the chassis and not comprising ground clearance completely lowered. This ensures optimum stability & safety and saves on upper loader arm pin wear.
Other machines in the market require the operator to lift the arms when carrying a load as they don't have adequate ground clearance. This puts unnecessary additional pressure on wear points such as upper loader pins and bushes increasing maintenance of these items.
With a Kanga, the bucket in the full rollback position and arms fully lowered is in line with the belly pan of the machine, providing a true indication of clearance other loaders on the market don't have the ability to do this.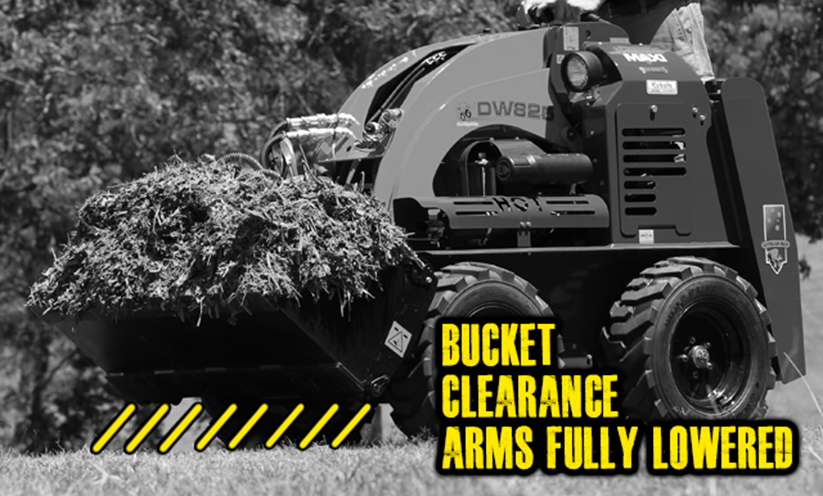 Wheel Power Over Uneven Ground Conditions
Wheels are the traditional option for skid steers – they are versatile in all ground conditions and can operate on hard surfaces such as concrete and asphalt but also are at home on turf, dirt and rocky conditions.
Kanga tires are designed for longevity can last for 400 to 500 hours, depending on the surfaces of operation, and this relates to very low running costs over the life of your machine with very minimal maintenance. Kanga have engineered this concept further than any other manufacturer. We have developed a design that incorporates huge 23″ tires offering many advantages over machines fitted with smaller wheels.
Think of a 4×4 vs a sedan – the Kanga has the best ground clearance allowing it to clear obstacles. Like driving over a gutter or worksite ruts without the base pan of the loader bottoming out and becoming bogged. The larger tire diameter means that the machine has a larger surface contact with the ground allowing more torque (pushing power).
Advanced Load Engineering for Wheel Loaders
All machinery needs engineering strategies to place the least possible load and stress on its components. Not all skid steer loaders are engineered the same.
Kanga Loaders are engineered to perform and last. Other manufacturers still mount their wheel motors by bolting them through the sheet metal of the chassis, without supporting the wheel motor in a manner that will last the test of time.
Kanga's wheel motor has its own housing, the bearing was strategically designed to be mounted within the tire hub resulting in the center line of the bearing being in the center of the tire.
This results in less pressure and force being transferred through the wheel motor. Less stress on the wheel motor means that the life expectancy of a wheel motor has increased. The bearing is not exposed because it is protected within the hub of the tire.
So, who should be opting for compact wheel loaders, rather than a tracked loader?
We've summarized the most important points for you below:
Wheel loaders give you broader options for working in different ground conditions.
They are more suitable for industries such as landscaping, fencing and arborist / tree removal services.
Kanga's heavy-duty wheel construction provides traction and lasting wear across a range of ground surfaces. From concrete or asphalt, to gravel and dirt.
The huge 23" lug skid steer tires provide 7.3″ ground clearance to help you tackle undulated ground.
Our wheels come in different tire options, depending on your conditions. Water-filled for more weight, stability and traction, air-filled for lighter grounds. Such as turf or lawn, and foam filled, which is puncture proof.
Lower operating costs comes down to fewer moving parts and in turn less maintenance and servicing over tracks.
Kanga wheels are also available with Kanga's resealing puncture proof solution. To make your wheels even more wear-proof in yards, on streets, or the factory.
While anyone can change a tire, it is more difficult and costly to replace or repair tracks.
Low cost of ownership over complex dedicated track systems
Should you have any questions, feel free to reach out to our experts on wheel and track loaders under 833 305 2642 or contact us here.
See updated and more on our Facebook page.