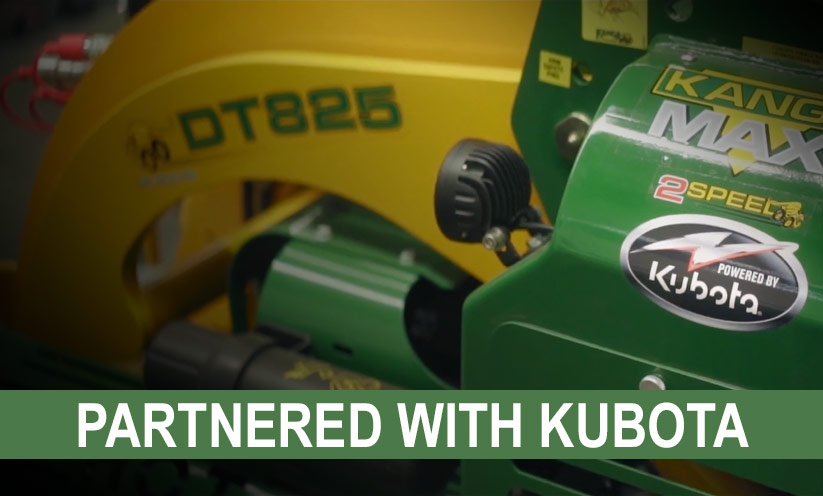 Kubota Engines & Kanga Loaders come together
With consistent, trouble free operations, Kubota engines are perfect for the rigorous demands of our Kanga compact loaders. Therefore, they were chosen as our ideal engine solution. Learn more about how Kubota fits Kanga Loaders' strategic vision and customer expectations.
Kanga Loaders – How it all started
Kanga Loaders have been designing and manufacturing multi-task skid steer loaders and attachments since 1981. Overall, quality engineering, innovation and customer focus has always had Kanga Loaders, at the forefront of the industry.
The original concept was a motorized wheelbarrow, which moved to a Hydraulic power pack. In 2008 Digga Australia acquired the Kanga Loaders Business. An easy decision to make, after looking at the success and the distinct advantages that Kanga had in engineering, operation, maintenance, safety and cost of ownership over its rivals. The acquisition meant Kanga now has access to a 12000sq ft state of the art engineering and manufacturing plant based in Yatala, Queensland.
After 39 years, Kanga remains one of the largest manufacturers of compact loaders in Australia and this is a testament to the Kanga brand. From the humble days of the original prototype and concept of the motorized wheelbarrow, Kanga has been awarded numerous awards. There include the Australian design Award, Queensland Export Award . We were also a Finalist in the prestigious Australian Export Awards. Today, Kanga Loaders boasts a market leading product line catering for a multitude of markets and applications from landscaping to Mining.
A versatile compact loader with over 60 attachments
All Kanga Loader units are compatible with a multitude of over 60 attachments — making them well suited to dig, carry, plant or build almost anything. Everything our customers know and expect from Kanga is included within our current range of models. Our attention lies in the quality and manufacturers' specifications.
At Kanga, our reputation and the growth of our business is dependent on our ability to deliver quality products and services to our customers. Compact, versatile Kanga Loaders are now recognized as an essential productive tool of the trade by thousands of commercial and industrial users. Hence, this includes equipment hire companies, landscapers, pool builders, building and fencing contractors, mining companies, government and local authorities.
Customer expectation – Turning hard work into an easy business with a Kanga
It is tough to manufacture a product for the Australian land. Whether in farming, construction or demolition. When it comes to moving soil or minerals around, there are few comparisons to the 100% Australian-Made Kanga Loader.
High-quality machinery is integral for many small businesses to stay profitable. Likewise, to stay afloat, it's important to own equipment that is safe, reliable, powerful, rugged and easy to operate and maintain.
"Kanga equipment has been designed to enhance a business' bottom line. We strive to provide loaders that allow the customers to enjoy a lower cost of ownership. Kubota's engine maintenance processes are very efficient and very reliable. These are the two most important factors when customers are considering purchasing a compact loader. When their needs are met, they continue to re-purchase Kanga's powered by Kubota." Rod Lehpamer, Kanga General Manager, assured.
Success between Kanga Loaders & Kubota has been a direct result of practical experience in the industries they serve. In consultation with equipment users and operators, Kanga has always designed and developed machinery and components, which have increased productivity through innovation, ease of operation, reliability and low maintenance concepts.
"At Kanga, we are always looking to deliver the most innovative solution for our customer's needs, and certainly at the right price. As well as with aftermarket support that people expect from an industry leading manufacturer."
Why Kubota Engines?
60% of Kanga's range are powered by Kubota engines, giving our units the grunt and power they display day in, day out. "This engine offers more power for less fuel consumption, and is one of the quietest engines available", says Rod Lehpamer.
Kubota's reputation is world-renowned for reliability, and ensures consistent, trouble-free operation. Kubota engines are perfect for our application and rigorous demands of earth moving equipment that we manufacture.
The market is a continually changing space, so there is a profound need to closely monitor trends and to keep ahead of the game. "We have a strong focus on safety features that provide benefits for the end user. Customers selecting compact loaders, look particularly at a few key areas: Serviceability/Support, Reliability, Warranty, Brand and Supply Partners, Ease of use, and Cost of Ownership.
Making things easier
Number one, would be ease of operation and safety for the hiring demographic. The entire Kanga range has been designed for ease of use. From the ergonomically designed soft-touch control system, which makes the machine easier to operate with less fatigue, to the self-levelling bucket which makes spilling the load impossible."
Kanga adheres to government guidelines for Workplace Health and Safety (OSHA), and operates under the world's best practices incorporating H.A.V (Hand Arm Vibrations) standards.  As well as internationally recognized Risk Management studies and procedures. In addition, an effortless induction to customers is made easy thanks to Kanga's ease of use and ergonomic control system.
Lowering the cost of ownership
"Another important consideration is cost of ownership. Kanga prides itself in providing the most cost effective and maintenance-free loader range on the market. At Kanga, we realize that downtime costs money, therefore Kangas are engineered for reliability and hassle-free servicing.
In addition, our emphasis on after sales support is recognized being the only manufacturer in this country that has dedicated spare parts interpreters along with dedicated service advisers. All backed with factory trained technicians to support customers' needs in each state. Our people are committed to supporting and answering any questions in relation to the Kanga Loader spare parts and supply any day of the week. The area that cannot be understated is our supply partners.  In order to continue to be the market leader, you need to partner with leaders, and when it comes to diesel powered engines. That is why Kanga have chosen Kubota."
Consistent quality & peace of mind with Kubota Engines
Innovative Kanga products are developed using the latest computer-aided design (CAD) technology, purpose-developed manufacturing techniques, and extensive fabrication, material analysis and machining equipment. Kanga's highly skilled team of engineers design and manufacture equipment to suit client specifications, with expert efficiency and absolute quality.
"When choosing a supply partner, is it critical that they can meet the needs to our strategic vision. So, when it comes to engines, partnering with Kubota is second to none. Kubota provide our engineering department with their expertise and knowledge we require to deliver the best outcome for any new products we develop. This process extends from initial product selection, to working with our onsite engineers. Therefore, we ensure we meet Kubota's engine matching criteria, which allows us to release an engine that is specific to our requirements from the Kubota factory in Japan. Furthermore, we also have piece mind knowing that we can leverage our support worldwide through their extensive dealer network."
Want to find out more about the partnership of Kanga Loaders & Kubota? Watch the video.